1 – 11 OCTOBER 2014
@ The Gallery, Craft Central LONDON
Karen Shannon launches first-ever exhibition showcasing 16 millinery masterpieces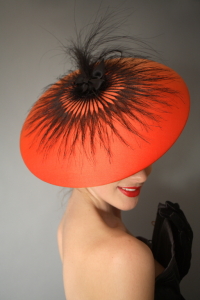 From 1st October 2014, sixteen unique hats and headpieces designed and constructed by Karen Shannon will be presented in The Gallery at Craft Central in Clerkenwell, London for two weeks. A private view will be held the on the 30th September providing a preview of the new exhibition and giving the opportunity to meet designer and milliner Karen Shannon.
Karen's career as a milliner started over 25 years ago when she took a part time millinery course after completing her degree in jewellery and metal work. Over a quarter of a decade later and Karen has worked with notable experts in the field including Stephen Jones and the late Freddie Fox and used her flare for drama and fashion, producing headwear for films including Star Wars The Phantom Menace, Master and Commander and the hit musical Wicked (amongst many others).
Organic, head-turning and original, Karen has made each piece by hand using a combination of both traditional and unusual materials, forming striking accessories that represent the art form of millinery at its best.
Karen comments: "The exhibition is a summary of my creative path inspired by my professional work as a theatrical milliner."
Included in the exhibition is a sculptural turban style hat made from boned and wired gauzy silk organza (shown below). Picture hats layered with skein of natural fibres, each one twisted and frayed to resemble an intricate piece of filigree jewellery will also be on display demonstrating Karen's talent of balancing seduction with elegance.
The materials Karen uses span from leather, natural fibres and feathers to recycled glossies ensuring the collection is as varied and interesting as it is cleverly fashioned.
The Art of Millinery, Headwear by Karen Shannon.
The Gallery, Craft Central 33-35 St John`s Square, London EC1M 4DS. Farringdon Tube .
Opening Times:
Wed 1st 11-4, Thur 2nd 11-6, Fri 3rd 11-5 , Sat 4th 11-6
Sunday 5th Closed
Mon 6th 11-6 , Tues 7th11-6, Wed 8th 11-4 , Thur 9th 11-6, Fri 10th 11-5, Sat 11th 11-6 ,
Sunday 12th Closed
For more information and high-res images, please contact:
Simon Midgley PR
simon@simonmidgley.com